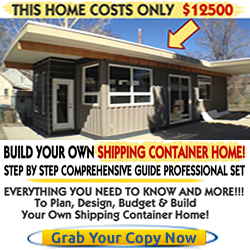 Tiny houses are gaining in popularity for many good reasons. There are countless advantages to owning a tiny house—from the savvy financial choice to sustainable living and increased freedom.
Whether you're looking for an affordable home or a smaller more energy-efficient space, a tiny house offers several advantages that can make it an attractive option.
The biggest advantage of owning a tiny house is the cost savings.
With prices ranging from $10,000 to $40,000, the cost of building or buying a tiny home is far less than what most people would pay for a traditional home.
When you factor in utilities and regular maintenance costs as well, it's easy to see why going small can be so attractive.
No matter how tight your budget may be, there's no reason why you shouldn't be able to find some way to enjoy your own tiny house experience.
One way to cut costs when building your own tiny home is to use shipping containers. Guides for building a shipping container home are available that walk step-by-step through the process. 
Another big upside of going small is the environmental impact reduction that can be achieved by living in a tiny house.
Tiny homes use fewer resources due to their smaller size which makes them inherently more energy efficient than traditional homes.
Additionally, because most tiny homes are built with repurposed materials and locally-sourced ingredients like straw bales or pallets, they have a much lower carbon footprint as well than bigger homes that rely more heavily on plastic and petroleum-based products.
Perhaps one of the most underappreciated benefits of living in a tiny house is the increased freedom that comes with it.
Many people who live in larger homes find themselves staying put because it would cost too much money to move or renovate their space if they ever decided to relocate elsewhere.
Buying or building a tiny home eliminates this problem: its smaller size and lighter weight makes it easier—and often cheaper—to move whenever you need to relocate again without even needing help from professional movers!
While there are some downsides associated with living in an incredibly small space such as limited storage areas or restricted room for entertaining guests, these issues also can be resolved fairly easily (with some creativity) by implementing hacks such as lofted storage spaces for additional overhead storage, hidden compartments in furniture pieces or creative seating solutions when guests come over.
All told, purchasing or making your own tiny home offers potential savings both financially and environmentally while giving you increased breathing room and giving you more freedom overall than having to commit yourself rigidly longterm in one place due to expensive renovation costs should one want another change of scenery eventually down the track; all without having to sacrifice too much comfort along the way!
There are many advantages associated with electing this lifestyle – so if leading an unencumbered life appeals to you…the options are right before your eyes!
For our top recommended guide for building your own tiny house, check out Tiny Home Builders!  They will show you how to make your tiny house dream a reality!